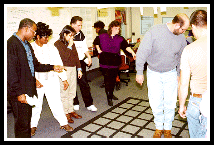 We offer a unique Rental Program for The Electric Maze&reg and The SentinelTM.

There are times when renting makes the most sense. Our Rental Program is designed to fill your needs, whether you're not ready to buy yet, or you simply need extra resources for your progam.


The procedure is simple.
You'll have use of an EM3 Electric Maze for your session.
We'll provide you with up phone support.
We'll help you design your sessions and pick the appropriate patterns.
The Action Learning Systems come with special instructions for set-up and facilitation.
You prepay the rental / shipping costs and sign the rental agreement.
We provide shipping as part of the rental agreement.
Most Major Credit Cards accepted.
Copy of company Purchase Order acceptable.
Action Learning Systems are shipped via FedEx.
Cost: $700 Rental plus Shipping (usually $125 - $160 each way).
Clients have found this Rental Program an effective way to become familiar with the learning power of both The Electric Maze and The Sentinel.


Getting Started

Simply call 800-773-8017 or 330-725-2728. We'll determine availability and fax you the rental agreement to get the ball rolling.