Electric Maze
Discover The Electric Maze
- An Exciting, Engaging
Team Building and Leadership Development Tool
The Electric Maze

The Electric Maze (also known as the Electronic Maze) creates a realistic learning environment for Leadership and Team development. The Electric Maze engages both mind and body in exciting, challenging exercises.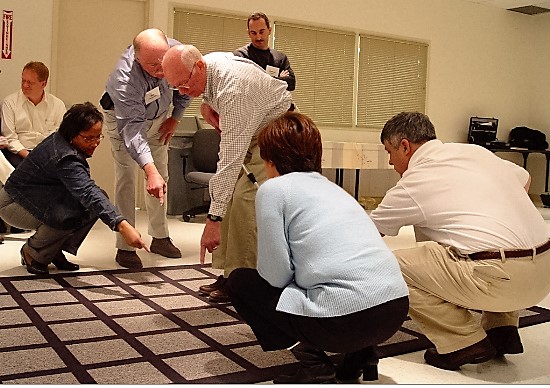 RENT

Links will take you to our companion site
(AmazingTeamwork)
How It Works

A simple battery-powered electronic control box makes it easy to program the Electric Maze to match your specific needs. The Electric Maze pattern is clearly visible on the face of the electronic control box. Move a pin on the EM3 control box, and you've got a new exercise. Change things up and keep it fresh. Stretch participants to the next level of performance. The training feels real, and continues to provide insights well beyond the exercise. The Electric Maze naturally encourages important conversations in a safe setting.


Realistic Training

The Electric Maze faithfully recreates the full range of human interactions from simple to complex -- the Maze scenarios feel real. The Electric Maze is effective in all types of organizations -- business, education, government, health, community, and family. This popular training tool makes it easy to conduct experiential development programs for both large and small groups.


For All

The Electric Maze provides a powerful learning experience, yet requires little physical effort. The Maze's unique design assures that activities are safe and appropriate at all organizational levels regardless of age, physical condition or cultural orientation. Simple programming allows the Electric Maze to simulate organizational settings tailored to meet diverse training and development goals. The Electric Maze is designed for indoor use with 6 to 24 participants.


Easy To Use

The Maze is easy to set up and facilitate. Facilitators report that the Electric Maze is simple to get up and running, and that facilitation feels natural from the start. Participants take away new insights, and easily connect Electric Maze learnings to real work issues and team relationships. On the surface it's fun, yet the learning runs deep and makes critical organization-wide connections.


Grows With You

Each Electric Maze session gives the facilitator insights into new scenarios and learning goals. Electric Maze scenarios grow with the team and organization. The Maze's potential grows with the facilitator.


Electric Maze Specifications

Grid pattern carpet with pressure sensitive switches. Programmable control module with visible and audible alarms. 9v battery included. Typical number of participants: 4 to 24. Typical activity area: 12' x 15'. Indoor location. Set-up and operation manual provided.


EM3 Control Module

Pin programmed
Dimensions: Two 3'x 8' grids joined with Velcro® for use
Shipping Wt/Dim: 70 Lbs/50" x 14" x 14"
Rolling Carrying Case Included
---
CornerStone Consulting Associates

2761 Stiegler Rd, Valley City, OH 44280
cca@ourfuture.com
330.725.2728 | 800.773.8017 (US)
330.590.0227 (m) | 330.725.2729 (fax)

CornerStone Consulting Associates