Workshop Description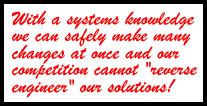 In today's rapidly changing world, we often find ourselves working harder but simply unable to keep up. Our methods of organizing and performing work have become outdated, burdened with layers and steps that serve the past more than the future. As complexity increases, we find it easier to make quick fixes than to create new systems and processes. We may even find ourselves in a reactive mode -- out of touch with our market, our customers, and even our fellow employees.

Change is a given. But how we accept and deal with change -- both from the inside and outside -- will set us apart. One of the best ways to ensure healthy change and growth is through the process of continuous organizational learning. But to learn from our efforts -- our successes and failures alike -- we must be able to associate cause with effect. We must be able to connect what we get with what we've done. Without this connection, we cannot learn -- we cannot make constructive changes.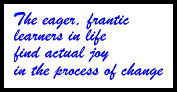 Systems Thinking allows us to learn -- both as individuals and as an organization. It allows us to see the big picture. It lets us view the entire system while it is in motion so we can understand how each piece interacts with and effects the others. We can see how our actions lead to observed results. Without Systems Thinking, changes quite often result in new problems and serious unintended consequences.

Systems Thinking enables personal growth. Systems Thinking establishes participants as designers and builders of new systems that serve their organization's needs. Without this capability, organizations will remain reactive -- predictive at the very best. In today's world, this is not enough -- organizations must learn to create their own future.