Anxiety is often produced by the rapid changes we face in today's' organizations. People are not sure where and how to begin making improvements. New ideas and terminology are not commonly understood. Managers are sometimes embarrassed to admit to their employees that they, too, are still learning their changing roles. Many who have embarked on the journey have run into a wall of resistance and are unable to sustain the forward progress.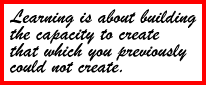 CornerStone Consulting Associates specializes in creating relevant context through experiences that build Leadership, Teamwork, and Systems Thinking skills. First we involve everyone in the sharing of a common set of experiences and terminologies. Next we introduce theory and practices that are connected and understood through the common experience and language base. As we continue to broaden the experience base, we deepen the theory that gives roots to the common experiences. From this expanding base of experience and knowledge, new managerial and organizational capabilities grow, systemically understood and grounded.

We believe in true teamwork where people partner to bring out each other's strengths, combining them into a strong and coordinated community able to achieve company goals. Knowledge of the human/business system necessary to support the growing capability and spirit of coordinated action is learned and put to work. Continuous development of leadership, managerial and employee skills mandatory for the growth, evolution, and sustainability of the organizational become a natural way of life. Creating a strong Learning Organization is difficult yet dignified work. An integrated approach ensures lasting effect and high return on investment. Without an integrated approach, learning workshops can be seen merely as "enjoyable" entertainment, teaching little. We've all seen that and aren't interested in more of the same

Our experiential workshops are effective over the range of experience, responsibility and knowledge that typically exists within organizations. They provide a universal language that crosses organizational and cultural barriers. Commonalities and differences are surfaced, making it easy to discuss them.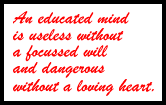 Participants actively engage their whole being in the learning process -- intellect, body, human spirit. They bring their own experiences and accumulated wisdom into the process, making the workshop explicitly relevant and highly effective. New understandings are incorporated into the body as well as the mind, providing immediate and lasting application in each persons' own sphere of action. Participants combine their inherent strengths while beginning to make conscious choices with balanced respect for both long and short term consequences.

"Experiential Learning" simply means that we create an inclusive learning environment that simulates real organizational dynamics. The truer the simulation, the clearer the meaning and relevance, avoiding abstract and "out-of-context" training that never gets used or does not stick. Creating a realistic environment requires careful attention to product design, skill in facilitation techniques, and systemic learning scenarios that provide connection to real world experiences and needs.

"Experiential Learning" permits people to learn together in a safe environment that does not put themselves or the organization at unnecessary risk. They experience new ways of leading and working together in a supportive and encouraging manner. They practice and master new skills as a system. Participants "save face" and are able to explore new techniques without having to know the latest "buzzwords," or terminology. They are surprised at how much they already know, both individually and collectively.